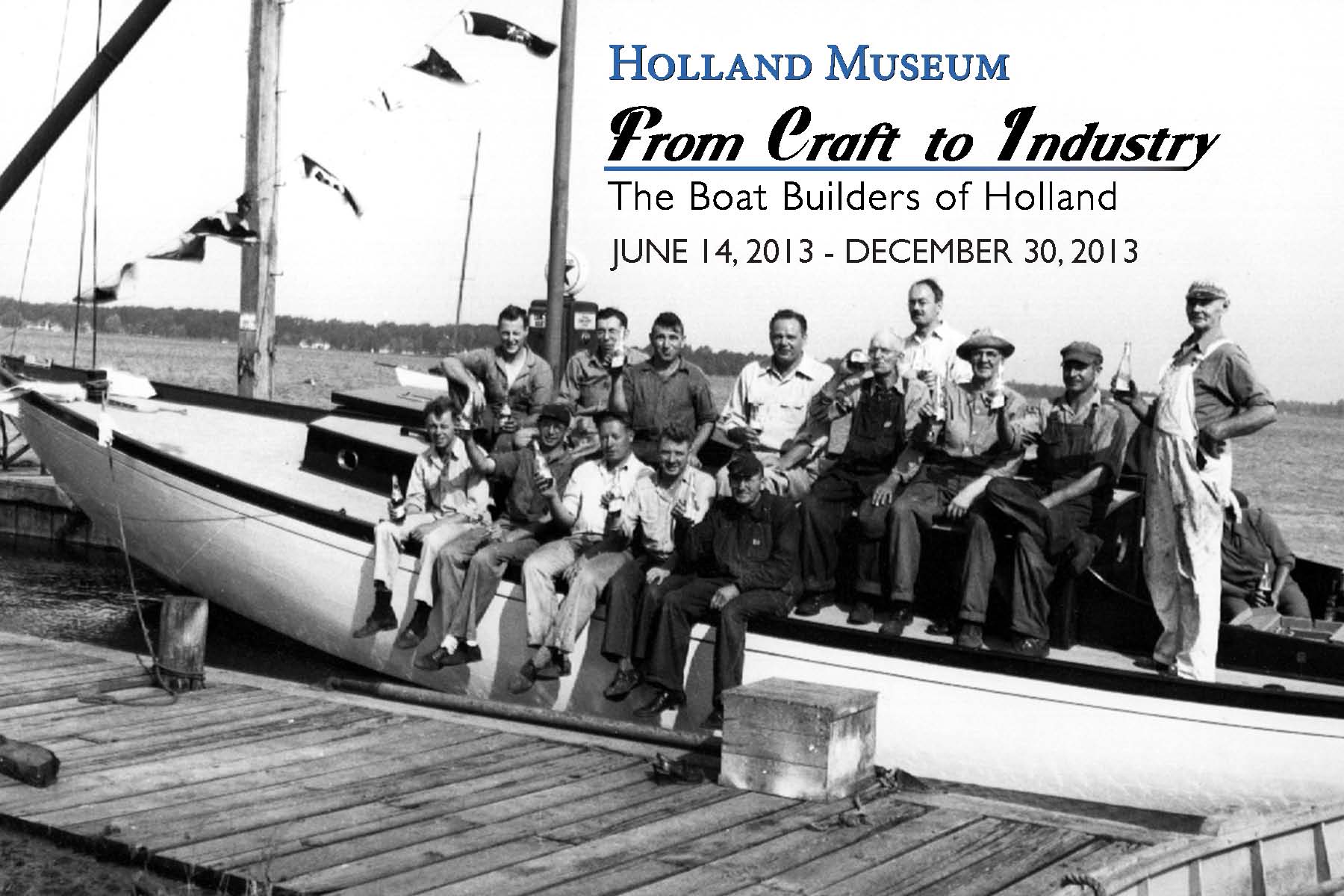 Preview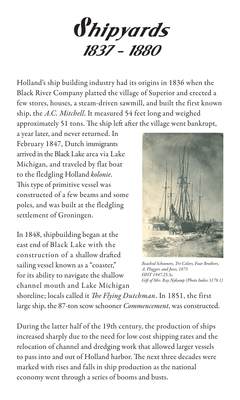 Description
Shipyards
1837 - 1880
Holland's ship building industry had its origins in 1836 when the Black River Company platted the village of Superior and erected a few stores, houses, a steam-driven sawmill, and built the first known ship, the A.C. Mitchell. It measured 54 feet long and weighed approximately 51 tons. The ship left after the village went bankrupt, a year later, and never returned. In February 1847, Dutch immigrants arrived in the Black Lake area via Lake Michigan, and traveled by flat boat to the fledgling Holland kolonie. This type of primitive vessel was constructed of a few beams and some poles, and was built at the fledgling settlement of Groningen. In 1848, shipbuilding began at the east end of Black Lake with the construction of a shallow drafted sailing vessel known as a "coaster," for its ability to navigate the shallow channel mouth and Lake Michigan shoreline; locals called it The Flying Dutchman. In 1851, the first large ship, the 87-ton scow schooner Commencement, was constructed. During the latter half of the 19th century, the production of ships increased sharply due to the need for low cost shipping rates and the relocation of channel and dredging work that allowed larger vessels to pass into and out of Holland harbor. The next three decades were marked with rises and falls in ship production as the national economy went through a series of booms and busts.
(Picture Tag)
Beached Schooners, Tri-Colors, Four Brothers, A. Plugger, and Joses, 1873
HHT 1947.25.3c, Gift of Mrs. Ray Nykamp (Photo Index 3176.1)
From Craft to Industry: The Boat Builders of Holland was an exhibition at the Holland Museum on display from June 14, 2013 through December 30, 2013. Materials for the exhibit were used from both the Joint Archives of Holland and Holland Museum.
Keywords
Boat Builders of Holland, Chris Craft, Boating Industry in Michigan, West Michigan Boats, Lake Michigan, Lake Macatawa, Faculty Exhibits, Hope College, Joint Archives of Holland
COinS